Svans against Azerbaijanis. Where to look for the root of evil?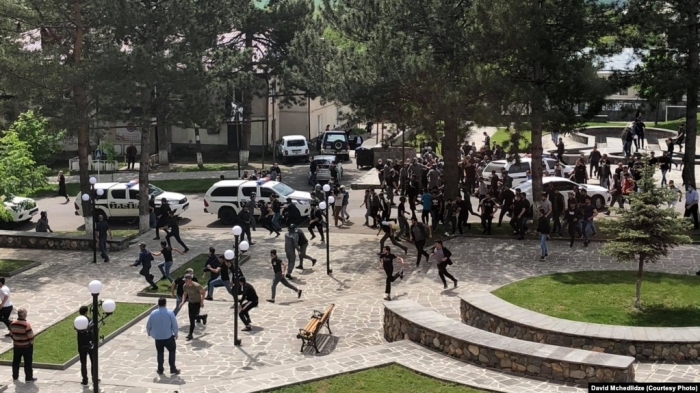 Photograph: David Mchedlidze
A
few days ago, in the small Georgian town of Dmanisi, a mass brawl took place between the Georgian highlanders (Svans) and local Azerbaijanis. The mass brawl between Azerbaijanis and Svans in Georgia is an unpleasant episode, unfortunately, with a great prehistory that goes back to the times of the communists, when the ecological emigrants, the inhabitants of Svaneti, were resettled in an absolutely alien environment. Since the Svans were not integrated into the socio-political life of Georgia, many of them grew up in an environment of hatred and enmity towards representatives of different peoples. This integration issue was not resolved by any government. There are a number of internal and external reasons why this incident happened today. Let's start with the internal ones: the weakening of the institutions of state power in Georgia, in particular the law enforcement agencies. Secondly, within the region itself there is a struggle for resources between criminal and related groups. And finally, the local elections to be held in the fall have already been announced as a referendum on confidence in the authorities. These groups, which are fighting with each other, ensure that the authorities win the elections. They feel their impunity. Of course, it was not without external forces. As for external forces, let's look at the situation in the region. We see that today in Baku they are very much concerned that Moscow is practically not fulfilling one of the important points of the trilateral agreement on Nagorno-Karabakh, which was reached in November 2020. This is a transport corridor that will connect the Nakhchivan Autonomous Republic with Azerbaijan through the territory of Armenia. It is clear that without solving this issue, Azerbaijan would not partially legitimize the presence of the Russian military in Karabakh. I do not want to say that they would not be there. They would have been there, but they would have been without status, or rather with the status of occupiers. True, in Moscow they would say that they are there with the status of peacekeepers who saved the civilian population, etc. Of course, this would be a status that would not suit either Moscow or Baku. Therefore, we made concessions. And today Moscow is strongly interested in keeping this corridor under its control. For this reason, the situation is quite tense. In addition, for Turkey, this corridor is important as part of an all-Turkic regional project, which is absolutely unacceptable for Moscow. Aggravation of relations between Azerbaijan and Georgia is Moscow's strategic goal. In no case should it be said that external forces were not involved in the incident of the Azerbaijanis and Svans at all. I would not say that this mass brawl was provoked, but one thing is clear that external forces are using this fact to advance their interests. The author is a leading expert of the Georgian Strategic Analysis Center.
(If you want to contribute and have specific expertise, please contact us at
[email protected]
)