ASOIU delegation visit to Estonia ends
The delegation of the Azerbaijan State Oil and Industry University (ASOIU) has completed its visit to Tallinn.
Before leaving for Azerbaijan, the university delegation held a final meeting with Shahsanam Aliyeva, chairwoman of the educational consulting "MTÜ Haridus Akadeemia Karjäär". During the visit, representatives of the Azerbaijani university held interesting, productive negotiations with representatives of Estonian universities. The main purpose of the visit is to create links between the universities of Estonia and the Azerbaijan State University of Oil and Industry, exchange of experience and ideas. At the meeting, representatives of the Azerbaijani university delegation expressed their deep gratitude to Shahsanam Aliyeva for her interest in establishing relations between ASOIU and Estonian universities. "It was an honor for us to spend time with you. Your high level of professionalism, extensive experience in the field of education, your creative ideas for the benefit of improving the education system create favorable conditions for laying the foundation for sustainable development of cooperation between our university and Estonian universities. We highly value your experience and knowledge in the field of education. Given this factor, we think that cooperation with you will allow us to overcome the barriers that stand in our way. We are confident that in today's program our students have played an integral role in the implementation of the project. Through the university and today's projects, there is the potential for further impact on the younger generation. Our students are patriots of our country, they are interested in attracting new students to the university, they study with high academic performance, they are socially active within the university and public organizations. We confidently declare that our partnership relations will only grow and we will be able to meet again in the near future. We wish you continued success and thank you for your invaluable help!" - said the leaders of the ASOIU delegation.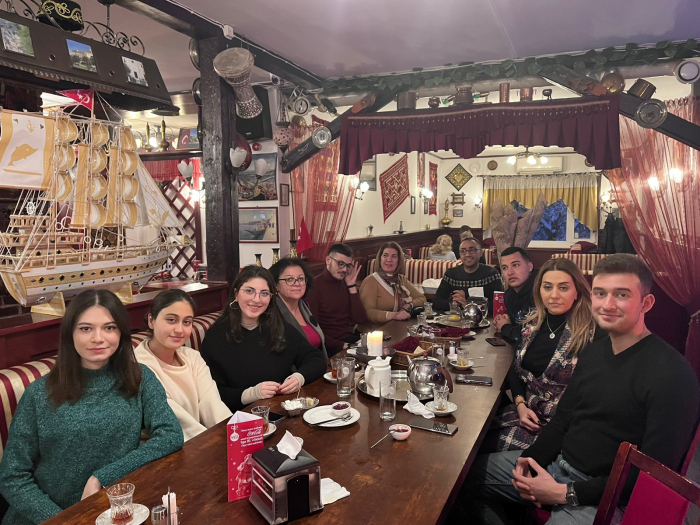 In turn, Sh.Aliyeva said that the "Experience and Exchange" project was successfully completed. "We are very grateful to the Azerbaijan State Oil and Industry University for their cooperation in the project. We are also grateful to the universities Taltech, Tartu, LUT and Tallinna Tehnikakõrgkool for their hospitality," she said. At the end of the meeting, the parties exchanged gifts and wished creative upsurges, good ideas, inspiration and perseverance in achieving the goal.