University of Tartu received ASOIU delegation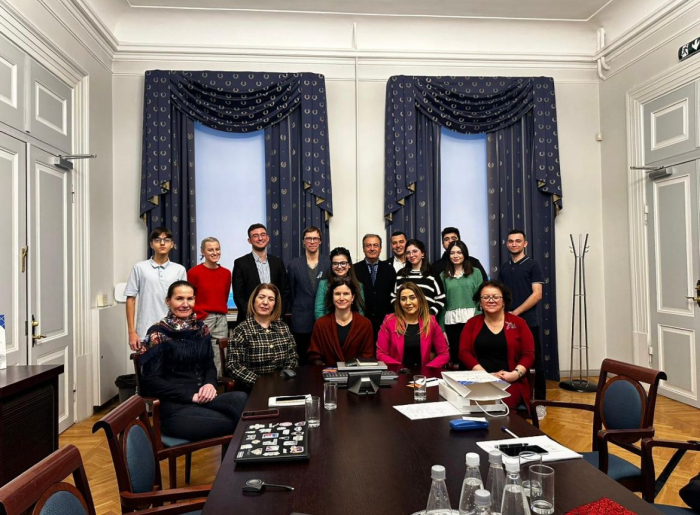 On December 12, a meeting was held between representatives of the Azerbaijan State Oil and Industry University (ASOIU) and delegations from the Estonian University of Tartu.
The meeting was held in order to get acquainted with the activities of the two universities and possible cooperation in the educational field. During the meeting, the head of the Faculty of International Relations of the Estonian university, Christie Kerge, noted that their main task is to preserve and popularize the Estonian language in order to develop cultural heritage. "Bachelor's studies are conducted mainly in Estonian, with the exception of three specialties. At the moment, our university, being a strong research institution, is committed to the development of education, technology and creative activity around the world. About 1800 foreign students from 90 countries study at the university. In 2021, 1,746 foreign students were enrolled: 439 undergraduate students, 963 masters, 344 doctoral students. We intend to cooperate jointly in such projects as the organization of winter and summer schools, student exchange, joint partnership in obtaining grants in the fields of science, improving the infrastructure of education. But first of all, we need to find common ground in order to explain which projects will combine our ideas," she said. In turn, ASOIU Deputy Vice-Rector for International Relations Ulviya Abbasova noted that her university is one of the first higher schools in Azerbaijan, which accepted numerous international students. "Today we are trying to coordinate partnerships with many countries in order to attract international attention. Over the past 5 years, the trend has been developing in a balanced way and one of the results is the start of our cooperation under the Erasmus Mundus program since 2015, thanks to which the Career Center was opened as part of the UniLab project, which improves the employment conditions for graduates. We are very happy to announce that the negotiations for the QS World University Rankings are going well, as are the Magnus and Work4ce programs. In conclusion, I would like to say that we intend to sign a memorandum in such areas as information technology, scientific research and business administration. We hope that we will find common ground," she said. ASOIU Dean for International Student Affairs Yashar Hasanov emphasized that today the university has more than 500 foreign students from China, Russia, India, Pakistan, Mongolia, Iran, Syria, Egypt, Sri Lanka, Algeria and Kuwait. "We will be glad to involve new students," he said. At the end of the program, ASOIU students Zhala Babanli, Leyla Alekperova, Chingiz Garayev and Rolan Yusufov showed an information video about student life in Azerbaijan, talking about the diversity and success of the educational program. The ASOIU delegation presented symbolic gifts to the representatives of the University of Tartu and wished to see them again in Baku soon.